Herpes - The Secret is Out
Duration: 12 minutes
USD $99.00
Buy Now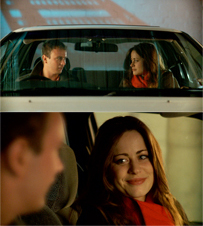 Synopsis
2011 Questar Award: Silver in the Corporation Health Awareness classification

Julie and Dan are dating. Is it safe for them to have sex if one has cold sores, or even genital herpes? Find out in this amusing program featuring Dr Kimberley Ivory and learn the facts about the HSV virus.
Two young Australians are falling for each other. Julie has recently met Dan and calls her girlfriend Zoe in NYC to discuss how much she likes him, but is worried about telling him she has herpes. Zoe tells her to just be honest! And Dan raves about Julie to his friend Luke. Next date Dan has made dinner but before they get out of the car the relationship develops and they talk openly and laugh with each other. But how will Julie tell him? How will Dan react? Will he tell Luke who is afraid of sharing towels with anyone?

Dr Kimberley Ivory provides a powerful yet simple approach to discussing herpes and safe sex, understanding transmission, symptoms and treatment.

In this endearing program we see a normal healthy relationship develop, myths are dispelled and useful practical advice is given through a series of Frequently Asked Questions.



Download Herpes: The Secret is Out flyer
Key Learning Points
This program covers a range of key learning points about herpes:

• Herpes Simplex Virus – HSV1 and HSV2
• HSV1 – the cold sore virus infects the oral area
• HSV2 – infects the genital area
• HSV1 can infect the genital area and less commonly HSV2 can infect the oral area
• How to discuss safe sex and herpes with a sexual partner
• Herpes is very common
• How herpes is transmitted
• Symptoms of genital vary from none, or just a rash to blisters which may get infected, difficulty urinating, swelling and flu like symptoms such as aches, pains, fevers and headaches
• Why symptoms come and go
• The need for testing
• Herpes can lie dormant for weeks, moths or years so it is not always possible to know who transmitted it
• Treatment options
• Is it safe to have sex
• Using condoms and the female condom
• Overcoming the fear of rejection
Learning Outcomes
This program is designed to:

• Increase awareness and knowledge of herpes
• Dispel myths about herpes
• Destigmatise reactions to herpes and remove fear
• Encourage use of condoms and safe sex practices
• Help young people talk more openly about sex and relationships
• Increase confidence and assertiveness
Package Description
This DVD training package comprises a 12 minute video with a dramatised story and doctor segments of 8 minutes and a 4 minute FAQ section.
It also includes a one minute trailer and comprehensive Leader's Guide with discussion questions, key learning points, activities and handouts and a full script.
All video components have a closed caption option.
Usage Examples
This program is targeted at young people – whether sexually active or before they are sexually active. It is designed to suit teenagers (aged 13+) and young people in their twenties. It will also be relevant for anyone at any age wanting to know more about herpes.

It will be ideal for sexual health education and as a discussion starter on herpes. It can be used for:

• Schools for health education and sex/relationships education
• Youth group discussions or on school camps
• At university health centres
• Sexual health, family planning and medical clinics/centres
• In one on one counselling sessions
• Medical, nurse training
• Self education library resources
Awards
2011 Questar Award: Silver in the Corporation Health Awareness classification
Recommended Audiences
Teacher training students
Youth
Community
Distributed in the following format(s)
Available in the following language(s)
Media Type
Video Recording
Presentation Style
Drama
Case Study
Animation
Interview
Comedy
Filming location
Australia
Copyright owner
Seven Dimensions
Publisher
Seven Dimensions