Ethical Behaviour
Duration: 13 minutes
USD $275.00
Buy Now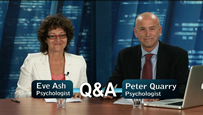 Synopsis
What is ethical behaviour and does it really matter in today's workplace? Can unethical behaviour actually affect the performance of a business? In answering some common questions about ethics, Psychologists Eve Ash and Peter Quarry tackle this sometimes sensitive subject with clarity and precision.
Key Learning Points
Case scenarios are analysed and advice given by the psychologists:
Introduction
What are ethics in the workplace?
Who should be interested in understanding ethics?
"Our organisation has released a new code of ethics. Does it really mean anything? "

Can ethics make your business more successful?
Ethics and their alignment with values.
Ethics and efficiency.

"A colleague of mine is stealing things. Nobody seems to do anything. What should I do? "

The danger of rationalising breaches of ethics.
Addressing the problem.
Clarifying codes of ethics.

"Im in sales and my boss encourages me to lie about the product. What should I do? "

Using questions to test the ethics of a situation.
The consequences of our actions.

"I work in a call centre and my colleagues discuss private details of our customers. Isnt that a breach of confidentiality? "

Being familiar with reporting procedures.
The pros and cons of taking it further.
Reporting and confidentiality.

"1.Main Points "

The importance of social responsibility.
Determining ground rules within your team.
Setting agreed performance standards.
Learning Outcomes
A code of ethics is linked with success
Breaches of ethics must be managed
Voice concerns to colleagues
Use "I" statements
Clarify code of ethics with team
Report unethical behaviours
Determine ethical behaviours by asking key questions
Ensure behaviours are consistent with your values
Consider future impact of unethical behaviours
Avoid breaches of confidentiality
Seek advice when unsure
Consider the corporate social responsibility
Team ground rules ensure more compliance
Recommended Audiences
Distributed in the following format(s)
Available in the following language(s)
Media Type
Video Recording
Presentation Style
Published
Melbourne Australia
Filming location
Melbourne Australia
Copyright owner
ClickView
Publisher
Seven Dimensions