Overcoming Personal Barriers to Diversity
Duration: 19 minutes
USD $275.00
Buy Now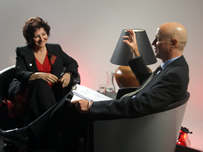 Synopsis
Just about every organisation is interested in diversity and has introduced policies and programs that support diversity. However, implementing real change and an inclusive culture often boils down to the individual, their values and their perceptions of stereotypes. In this program, Psychologists Eve Ash and Peter Quarry investigate the individual's barriers to welcoming difference and more importantly how they can be overcome.

Overcoming Personal Barriers to Diversity PDF worksheet.
Great discussion starter! Includes:
• Definitions of diversity and inclusion
• Reasons why people resist differences
• Stereotypes positives and negatives
• Getting to know people from different backgrounds
• Overcoming biased perceptions
• What YOU can do to make your workplace more inclusive
Key Learning Points
• Try to avoid right/wrong thinking.
• Meet people from different backgrounds.
• Challenge your stereotypes.
• What stereotypes affect you?
• Challenge others who judge people.
• Consider the times when you have been excluded.
• How can diversity help?
• Help others welcome diversity.
• Critically look at the media.
• Don't exclude yourself.
Recommended Audiences
Distributed in the following format(s)
Available in the following language(s)
Media Type
Video Recording
Presentation Style
Filming location
Australia
Copyright owner
ClickView
Publisher
Seven Dimensions