Creating & Working with Knowledge
Duration: 13 minutes
USD $275.00
Buy Now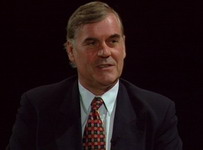 Synopsis
This video is based on the prediction that within a few years 70% of US and European workers will work with knowledge. But how is knowledge created and managed? How can information overload be dealt with?
This program features psychologist Peter Quarry, interviewing Ron Young, Chief Executive, Knowledge Associates, UK.
Ron Young is founder and Chief Executive of Knowledge Associates Ltd, a consulting and technology organisation based in Cambridge UK, which specialise in Knowledge Management. His clients include major Multi-National Corporations, National Governments and Professional Institutions.
He is co-author of 'Upside Down Management' and 'Knowledge Management'. He is a visiting lecturer to Cranfield Business School and City University Business School, for their 'Business Growth', "Growing the Team' and 'Knowledge Management ' programs. He regularly chairs and speaks at Knowledge Management conferences world-wide.
Knowledge Management consulting engagements include advising and assisting several major multi-national Corporations, The European Commission, National Governments and Professional Institutions. He leads Know-Net, a European Commission funded project to produce Knowledge Management systems using Intranet technologies.
Key Learning Points
understanding 'knowledge work'
why we learn faster when we share knowledge faster
role of 'groupware' in working effectively in knowledge creation
why creativity is a 'volume driven business'
dealing with information overload
Package Description
Recommended Audiences
Distributed in the following format(s)
Available in the following language(s)
Media Type
Video Recording
Presentation Style
Copyright owner
ClickView
Publisher
Seven Dimensions