Presentations Without Fear
Duration: 17 minutes
USD $495.00
Buy Now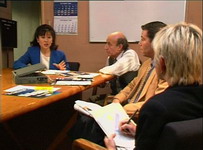 Synopsis
Making a presentation is frequently a task people dislike, but it is a part of business life. Whether it is convincing senior management to train a group of staff in a new procedure, making a sales presentation or briefing clients on the progress of a project, presentations aim to both inform and motivate the audience.
This video will show viewers how to resolve the five most daunting challenges faced by team members when making presentations, giving them the confidence they need to look and sound more professional.
Key Learning Points
Break the "fear spiral" and keep anxiety levels under control
Avoid the "talking trap"
Motivate audiences and involve them in a presentation
Effectively handle an unplanned interruption
Deal with a difficult audience member
Package Description
DVD with a PDF workbook on disc. Includes activities and to-do
s.
Recommended Audiences
Distributed in the following format(s)
Available in the following language(s)
Media Type
Video Recording
Presentation Style
Copyright owner
ClickView
Publisher
Seven Dimensions