Kangaroo
Duration: 7 minutes
USD $275.00
Buy Now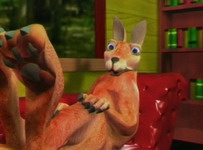 Synopsis
Everyone wants to know how to be happy at work...
Motivational session-starter on happiness at work and caring for others.
Dooley, the kangaroo, has lost his hop. You might say he is 'unhoppy'! Valmay, the koala and a local motivational specialist, teaches him the key to happiness.
Dooley learns that if you care for your customers, support your team colleagues and show concern for your employees, you will feel healthier, live longer and feel happier at work!
Kangaroo is a fully animated video, perfect as a session starter, motivational video or useful as a tool in customer service training, team building and leadership development.
Package Description
DVD and a 9-page workbook containing activities and to-dos.
Recommended Audiences
Distributed in the following format(s)
Available in the following language(s)
Media Type
Video Recording
Presentation Style
Filming location
Australia
Copyright owner
ClickView
Publisher
Seven Dimensions