Building Relationships
Duration: 12 minutes
USD $275.00
Buy Now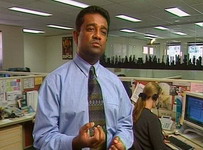 Synopsis
Call centre operators are often the first and most important point of contact with the customer.
They need to have a positive approach to customers and learn to build rapport and be willing to help.
Key Learning Points
Be enthusiastic
Take personal responsibility
Show interest
Engage with the customer
Use the customer's name
Package Description
DVD with 10 page section in workbook including quizzes and to-dos.
Recommended Audiences
Telephone Staff
Service Staff
Distributed in the following format(s)
Available in the following language(s)
Media Type
Video Recording
Presentation Style
Filming location
Australia
Copyright owner
ClickView
Publisher
Seven Dimensions